Here's another great faceting design from the International Gem Society that I'll post here for those who plan to learn faceting.
White Asterism: Online Faceting Designs and Diagrams
by Jeff R. Graham
Summary
Danburite is a beautiful but underappreciated gemstone. The White Asterism cut can take full advantage of this gem's qualities. It was voted one of the 12 best designs of 2001 by the Columbia-Willamette Faceter's Guild.
Reading time: 1 min 47 sec

You can find cutting instructions for White Asterism here.
https://web.archive.org/web/20120320172 ... rism.shtml
Cutting Remarks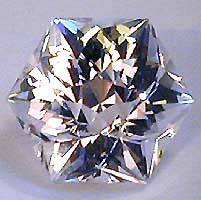 An approximately 2.84-ct, 8 mm x 7mm White Asterism cut from clear Mexican danburite by Jeff Graham.
I recently acquired a large parcel of danburite crystals. Although well known in mineral collecting circles, this material isn't commonly seen faceted. I wanted to create a design that would take advantage of the diamond-like clarity and appearance of danburite. So, here you have the White Asterism cut.
Due to its clarity, danburite doesn't need an especially bright design. It's already bright. Notice the depth of this stone. It shows a lot of dispersion and nice patterns, too.
This cut works well in larger size stones, 1 carat plus. It also works well with topaz, tourmaline, and synthetic materials in light colors.
Enjoy cutting your "White Asterism."

Random – Cosine – ISO
Detailed faceting instructions by Jeff Graham available at The Rock Peddler
About the author
Jeff R. Graham
The late Jeff Graham was a prolific faceter, creator of many original faceting designs, and the author of several highly-regarded instructional faceting books such as Gram Faceting Designs.
https://www.gemsociety.org/article/onli ... -asterism/
Sadly, the Rock Peddler link would not work again, and said the page was not found like last time, but the first link works so the design can be cut.