I had no idea all the things mentioned in this extensive article from Rock & Gem are found in and around the Great Salt Lake in Utah, and it not only tells you what's there and what to look for, it also gives you directions on how to get there and what areas to look in, and tells you about lots of other things to explore in the area, and gives directions to them, too. Have any of you been there and done any collecting? Now that I'm aware of all that's there, maybe I'll even get to go there someday.
Utah's "Dirty Diamonds"
Gypsum and Other Minerals from the Great Salt Lake
By Admin - September 19, 2019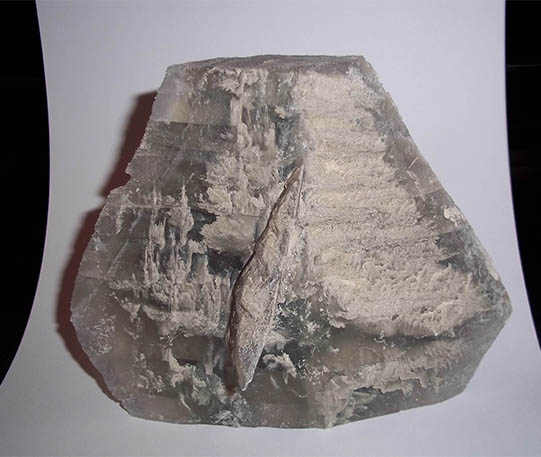 The largest dirty diamond crystal I collected was 16 cm by 12 cm. The gray clay inclusions are clearly seen and a second crystal is growing out of the side. The larger the crystals, the dirtier they are. (All photos by Alice Sikorski)
Story and Photos by Alice Sikorski
"Located in the northern part of Utah, the Great Salt Lake is the largest saltwater lake in the Western Hemisphere. In an average year, the lake covers an area of around 1,700 square miles, but this measurement fluctuates substantially due to its shallowness.

For instance, in 1963 it reached its lowest recorded level at 950 square miles, but in 1988 the surface area was at the historic high of 3,300 square miles. In terms of surface area, it is the largest lake in the United States that is not part of the Great Lakes region.



Remnant of Prehistoric Pluvial Lake



The lake is the largest remnant of Lake Bonneville, a prehistoric pluvial (fed by rainfall) lake that once covered much of western Utah. The three major tributaries to the lake, the Jordan, Weber and Bear rivers, together deposit around 1.1 million tons of minerals in the lake each year. As it is endorheic (has no outlet besides evaporation), it has very high salinity, so much higher than that of seawater that swimming in it is similar to floating. And its mineral content is steadily increasing. Its shallow, warm waters cause frequent, sometimes heavy lake-effect snows from late fall through spring.

Although it has been called "America's Dead Sea", the lake provides habitat for millions of native birds, brine shrimp, shorebirds, and waterfowl. The Great Salt Lake contributes an estimated $1.3 billion annually to Utah's economy, including $1.1 billion from industry (primarily mineral extraction), $136 million from recreation, and $57 million from the harvest of brine shrimp.

Solar evaporation ponds at the edges of the lake produce salts and brine (water with high salt content). Minerals extracted from the lake include sodium chloride (common salt), used in water softeners, salt lick blocks for livestock, and to melt ice on local roadways; potassium sulfate, used as a commercial fertilizer; and magnesium-chloride brine, used in the production of magnesium metal and chlorine gas, and as a dust suppressant. US Magnesium operates a plant on the southwest shore of the lake, which produces 14% of the worldwide supply of magnesium, more than any other North American magnesium operation. The lake's northern arm contains deposits of oil, but it is of poor quality and it is not economically feasible to extract and purify it.

Oolitic sand can be found in the lake and on its shores. It consists of small, rounded, or spherical, grains (ooides) made up of a nucleus (generally a small mineral grain) and concentric layers of calcium carbonate (lime). They look similar to very small pearls.



Fascinating Salt Crystal Growths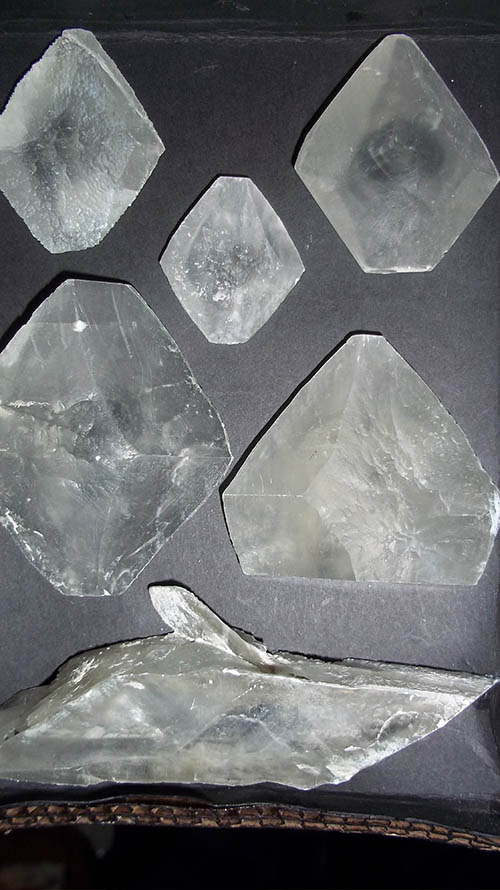 The black background highlights the inclusions and crystal size of these specimens. At the bottom, a side view of a larger crystal shows a smaller crystal growing out of it.



For the mineral collector, the Great Salt Lake has some interesting salt crystal growths. Some are even colored pink due to the algae bloom that happens in the spring. These salt crystals are best harvested in the fall after a long, hot, dry summer when the water level is low. You should plan on getting salt-encrusted and wet from the knees down. The salt crystals are easy to spot, as they look like small islands protruding above the water level. Bring a crowbar or shovel to loosen the crystal growths from the lake bottom. Let the crystals dry on a rack outside for a couple weeks before bringing them inside. Since they are salt, the crystals will not last long; over time, they dry out and crumble.

Gypsum occurs on every continent and is the most common of all the sulfate minerals. Gypsum is formed as an evaporative mineral, frequently found in alkaline lake mud, clay beds, evaporated seas, salt flats, salt springs, and caves. The Great Salt Lake has gypsum crystals that have been nicknamed "dirty diamonds". With a chemical composition of hydrous calcium sulfate (CaSO4 · 2H2O), such crystals are found as floater crystals in clay beds, where they fully form without being attached to matrix. The dirty diamonds are lenticular (lens-shaped) crystals in the monoclinic system, with a shape that resembles a diamond.

The crystals may trap clay inside when forming, coloring a specimen brown or gray, or making it opaque. These clay inclusions sometimes form hourglass formations inside a crystal. These inclusions are what give the crystals their nickname, dirty diamonds.



Gypsum Crystal Attributes ... "
https://www.rockngem.com/utahs-dirty-di ... tter091919