Wow, I've seen this word before and wondered what they were, and now that I've seen them and read this story, I want to go to Michigan and collect some! Way cool, and this is part one from Rock & Gem, so we'll get to see more when I post part 2, maybe tomorrow, so watch for it or use the link in the story to access it now. I'll take you part way through the article and show you the first 2 pics, and I'll embed the video for you so you can find it here any time. Enjoy!
Yooperlites' Appeal (Part 1)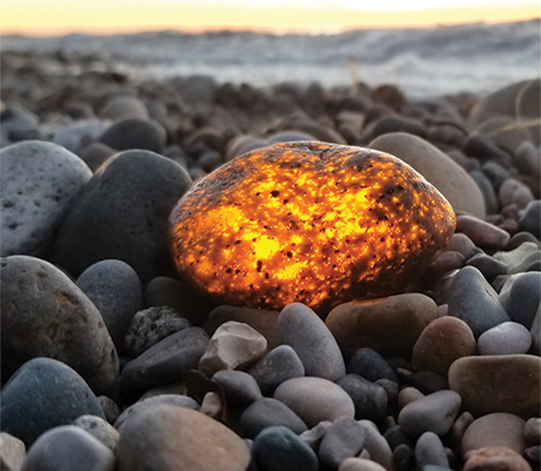 By Admin - April 9, 2019
By Wayne Peterson
"It's been nearly two years since Erik Rintamaki of Michigan's Upper Peninsula spotted something unfamiliar and utterly intriguing along the shores of Lake Superior under the setting sun and evening sky.

The discovery of fluorescent sodalite, which Erik named "Yooperlites," caught the attention of geologists, mineralogists, rockhounds, educators, and just about anyone who had lived in or visited the Upper Peninsula at one time or another.



Naming Honors U.P. Citizenry



The origin of the name "Yooperlites" is the abated abbreviation of "U.P." for Michigan's Upper Peninsula. "Yoopers" are the area's colloquial citizenry. "Lite" refers to the rock's fluorescent properties from sodalite.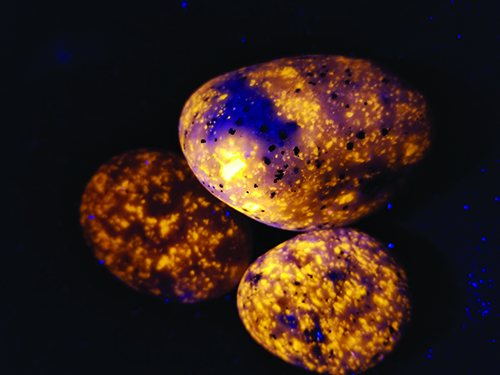 This trio of Yooperlite specimens are part of the eye-catching display Erik presents at shows. (Photo courtesy Wayne Peterson)



Since making the discovery, Erik has spent quite a bit of time talking about Yooperlites and leading rockhounding tours. Of course, as a dedicated rockhound whose hobby is also his business (http://www.yooperlites.com), a good day rockhounding is a good day all around.

My wife, Brenda, and I had the good fortune of hearing Erik speak about his discovery and spending time with him in September of 2018. Early in our autumn travels, we went to the Upper Peninsula of Michigan, one of our favorite rockhounding areas. A few years earlier, we successfully explored the western region of the U.P., so this time around we mapped out the eastern region to explore with hopes of finding prized Lake Superior agates.

The region is rich in mineral heritage and was the United States' major supplier of copper for more than a century. From the mid-1840s to 1968, the Keweenaw Peninsula mines produced an estimated 10.5 billion pounds of copper.



Combing Lake Superior Shores



Our second day into the trip, we ... "
https://www.rockngem.com/yooperlites-ap ... ites041719