I'm putting this one in the 'opal stories, myths and poetry' category despite the fact that there are a lot more gemstones than opals in these pieces, and all of the pieces don't even have opals in them, plus some are fire opals; but this designer insists on calling the clear opals she uses 'water opals', with no explanation as to what water opals are.
So I did some searching, and found it was an old term used to describe hyalite opals, which are mostly clear, transparent stones, some of which may have a bit of color floating around in there, but not much, and one site on esoteric meanings of gemstones said they were favored by 'underwater elven deities called Deep Sashelas', and 'a god of mages and wizards in the service of Mystra, goddess of magic, named Savras'; thus the mythical connection to the term 'water opal'.
The opals in the pieces are difficult to see clearly with all the other gems and metal, but I did find a good shot of one on Forgotten Realms Fandom that I'll show you before the article. Oh, and I don't have a favorite among these because they're too 'busy' for me, meaning they're ornate. Enjoy!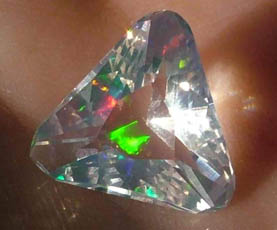 Neha Dani's New Jewelry Collection Is an Escape From the Inferno
January 9, 2020 by Amy Elliott
"And it lifts you up, up, and away from the chaos in Australia and the similarly disturbing conflict in the Middle East with a small collection titled Shristi: Universe.

This series of six pieces by award-winning Indian jewelry designer Neha Dani explores the beauty, lightness, and astrological mystique of the galaxies that exist in outer space. The idea is that these far-off realms hold and transmit a powerful energy, enveloping us in a kind of protective and nurturing cosmic cocoon.

Common to each of the designs is the flowing curves and contours, suggesting the wonder of a comet streaking across the sky, unleashing a wellspring of positive energy.

Dani was named a JCK Rising Star in 2014 and last year was honored with the Rising Star Award from the Fashion Group of America in the fine jewelry category. She was also profiled in Juliet Weir de la Rochefoucauld's book Women Jewellery Designers alongside marquee names like Victoire de Castellane, Coco Chanel, and Paloma Picasso.

Having long admired Dani's work after seeing it for the first time in 2018 at Macklowe Gallery, where she is represented in the States, I was apprised of Shristi: Universe when I covered Dani's participation in Protagonist, a unique fine jewelry showcase at Salon Art + Design in New York back in November.

But given the grim realities at all ends of earth at this precise moment, the timing seemed right to share her "universe" with you now—a small but potent palate cleanser, a breath of fresh, clean air, and for those who need it, a momentary escape from the abyss. ... "
Vaneesha necklace with water opal, paraiba tourmaline, blue and purple sapphires, diamonds, and tsavorite in titanium and 18k gold with custom-color rhodium finishes, price on request
https://www.jckonline.com/editorial-art ... ollection/